Attention On Deck:
2020 Professional Development
All Mideast Division Departments are directed to place an increased focus on Professional Development Program (PDP) Training for Department/Detachment Adjutants and Paymasters during the months of January and February 2020.
All Departments are to place an increased emphasis on those detachments that are weak or need assistance with the filing of their reports, meeting minutes, ROI, PLM audits, 990 filing or any other administrative procedures.
All Departments should have a professional development training team and use these members to offer assistance to their struggling detachments. Detachments need to be operated like a business entity since they are incorporated and operate under IRS guidelines as a non-profit organization.
Uniforms & Protocol

Click here to learn more about Marine Corps League uniforms and protocol.
To order, click here to visit the National Ship's Store.
The Marine Corps League Evening Dress Jacket (pictured) is custom-made by the Marine Shop in Quantico.  Click here to learn more.
---
Marine of the Year Nomination Package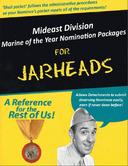 Click here to read the book about the nomination, the process, etc.
---
Online Forms & Info
Installation of Officers Form  -  Fill it out online, print, and sign.
Forming a New Detachment
League Ritual (Small)
League Ritual
Officers Guide Book
Professional Development Outline
Ten Principles of Leadership
Ten Worst Meeting Offenses
More Training Coming Soon